Welcome to the navigation/site map/cool links page:
NAVIGATION
This website centers around the navigation module as shown below, it allows you to either step (UP) a level, or move forwards (FWD) and backwards (PREV) to view similar types of information at the same level. Have a go to see how it works!
This navigation module is only dispensed with in cases of high graphics content. That is I want you to get the graphics as fast as possible. So you may use the browser buttons in the usual way.
The navigation module splits up into its full use form as shown on the sites tittle page.
If you resize a window in Netscape you may need to refresh the document. I think this is a Dreamweaver issue.
Usually you can click on any thumbnail to get a larger picture
SITE MAP
COOL LINKS
Here are a bunch of links to pages and resources that I like and I hope that you will find useful.
First you need to find it so use a good meta search engine. That is a search engine that submits the requests to many other search engines.
Then you may need some new software
A really cool website by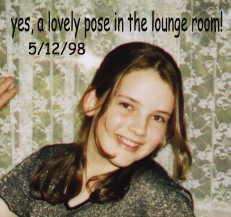 Is there any privacy on the net?
---
Copyright, this page is © 1999 TOM EDWARDS, XTCE.COM(excepting TOPOTRICS)